---
John Kosovich Wines is a family owned and operated winery located in Western Australia's Swan Valley. We focus on quality boutique wines, which has been a hallmark of our brand for many years. Established in 1922, we are one of the oldest wineries operating in the Swan Valley and the oldest still run by the founding family.
Please visit us in our unique underground cellar tasting area, situated just 15 minutes drive along Great Northern Highway from Midland, approximately 35 minutes from Perth city. Here visitors get to walk past and enjoy the aroma of our luscious liqueur wines slowly and carefully ageing in barrels, before going downstairs to enter our tasting area and sample our fine premium wine range.
Scroll down for more news and what's happening at the cellar door.
---
Croatian Heritage Wine Dinner
SOLD OUT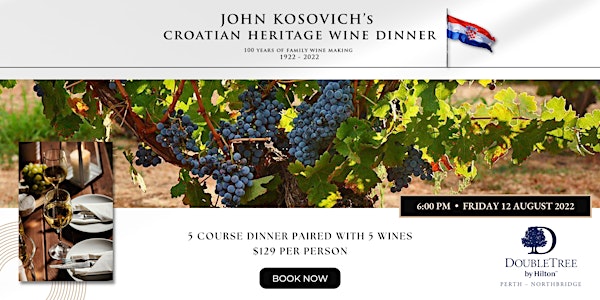 Our previous collaborations with James St Bar and Kitchen at Double Tree by Hilton Northbridge have been so well received, we have decided to host another. This time we celebrate our Croatian Heritage with a bespoke menu created to match five of our wines, including the now sold out 2016 Pinot Noir and our new 2021 Pemberton Shiraz which will be released on the night.
Double Tree's chef has taken some traditional Croatian dishes and put a twist on them. Croatian food is all about seafood, fresh meats and vegetables. It is homely and rustic and we're excited with the menu which has been created.
Double Tree will be offering exclusive accommodation prices for those attending the dinner. Tickets are likely to sell fast and can be booked by clicking on the following link. John Kosovich Wines dinner
---
Opening Hours
Our cellar door is open Wednesday to Monday 10.30am to 4.30pm.
Our business office hours are Wednesday to Friday and Monday 10.30am to 4.30pm
Please note, we are 100 years old, and many of our facilities have been here for quite some time, therefore our tasting area is not suited for people with accessibility issues. However we welcome you to phone us and discuss alternate arrangements for tastings.
---
WARNING:
Under the Liquor Control act 1988 it is an offence:
to sell or supply liquor to a person under the age of 18 years on licensed or regulated premises; or
for a person under the age of 18 years to purchase, or attempt to purchase, liquor on licensed or regulated premises.
Licence number 6180046532 Liquor Control Act 1988 PRODUCERS License.
Licensee: John Alfred Kosovich, 180 Memorial Avenue Baskerville WA 6056